200 Hour Yoga Teacher Training
The Spring Semester is a Weekend Intensive Program that meets every other weekend , involves a community service project, and ends with a weekend long retreat.  This program is an information packed program that exceeds all time and curriculum requirements laid out by Yoga Alliance. Students who study at Om will have a strong understanding of:

asana (physical poses)

pranayama (breath control)

anatomy and physiology

history & philosophy (through lecture and the exploration of sacred texts)


sequencing

teaching styles

lifestyle of a yoga teacher

meditation

students will also touch upon some more advanced yogic theory and practice such as Chakras, Nadis, Ayurveda, Essential Oils Etc…
While this program is heavily influenced by Vinyasa, students will also come away from the program with an understanding of, and experience with: power yoga, chair yoga, Kundalini, Yin Yoga, gentle yoga, restorative yoga and more. Each student is required to co-teach a beginner yoga series while they are in training, and complete 50 hours of class time with a RYT 200 or higher (all classes outside of YTT are free at OM during the duration of training, but classes may be completed outside of the studio). 
At OM, we believe strongly that yoga can and should be accessible for everyone and every body and this is why we have created a program that nurtures teachers who can teach to a wide population of students while nurturing each trainees own personal practice. Our program has a strong foundation in breath and meditation and we hold true to the deeper aspects of the practice and it's philosophy and history. Respect for the practice and each other is of the highest importance.
Please email application or questions to info@noplacelikeomcenter.com or Mail to: The Om Center 27 Siemon Company Drive 107S Watertown, CT 06795
Please be sure to read our Policies.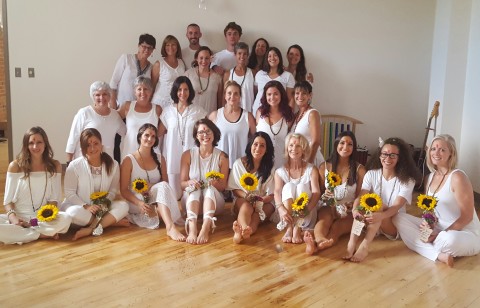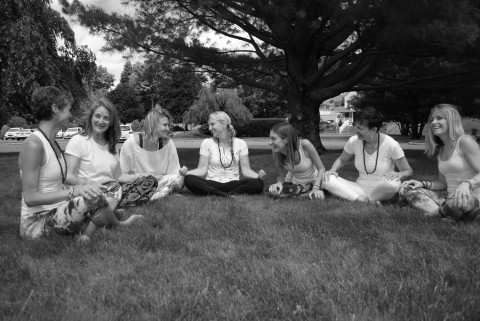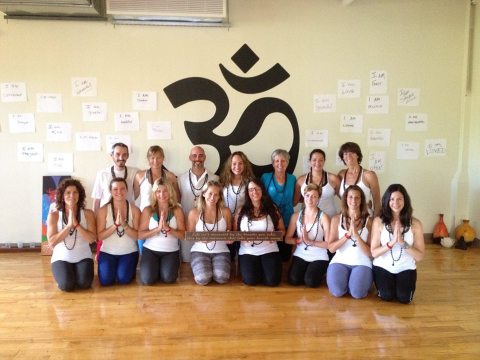 These books are required in book form (please no Ebooks) and are to be brought to each class.
The Bahagavad Gita (Eknath Easwaran)
The Path of the Yoga Sutra (Nicholi Brachman)
The Key Muscles of Yoga (Ray Long)
Program Includes:
Manual of course work, mala beads, discounts on yoga classes, massage and Buddha Bistro
Program Investment: $2400
Early Registration Pricing: Paid in Full by January 15th:  $2200 (Cash) $2250 (Credit)
Deposit Due February 1st to hold any space: $250 (non-refundable)
Payment Plans: Payment plans are available. Please contact Jessica at theomcenter@gmail.com for individualized breakdown.

Scholarship: Scholarships are available for 10-50% of tuition costs and are available after applicant has been accepted to the program. Applicant must be able to show financial need and will be asked to provide a request for specific amount.  Applicant must complete the program in its totality. If applicant leaves the program early, or is asked to leave, scholarship funds must be returned. 

All payments are subject to 6.35% CT Sales Tax. All payments are non-refundable- if is a student is unable to complete the program for any reason, they are able to pick up where they left off at the next training.

**Training is subject to 6.35% CT Sales Tax **
Meets:
Every other Saturday and Sunday 8:00am-4:00pm (with a couple exceptions for extended to Saturdays to 6pm)
Dates :
Opening Weekend: Friday January 19th 5:30pm- 9:00pm, January 20th and 21st 8:00am-4:0pm
Weekend of February 3rd and  17th, March 10th and 24th, April 7th and 21st, May 5th and 19th
Graduation Weekend June 1s t 5:30pm- 9:00pm, 2nd and 3rd
*Opening and Closing Weekend only have a Friday
If you are unable to attend class due to illness or other unforeseen circumstances you must make up all class hours with one of Om's ERYT Teachers at a rate of $25/hour.
"Learning to trust the process, learning to open up to what quickly became a new but tight circle of people, and reinforcing the trust I have in myself to allow the practice of yoga to change me slowly but surely have been the cornerstones of my teacher training at OM. It is one of the best things I have ever done for myself and allowed me to deepen a longtime practice and see things with a new eye and mind. I am thankful every day to have found and be part of the OM community. " Michele M.

---
"YTT-200 training at The Om Center in Watertown, CT was nothing short of transformational. It was an opportunity to soak up a plethora of information, as well as to fine tune asana and pranayama practice. The atmosphere and ambiance are unparalleled. It is truly an experience any yogi will appreciate!" Diane Q.
---
"I am so grateful for The Om Center for Yoga & Massage Teacher Training program and all that it has done for me. Truly life changing as I have grown in many ways. I learned that there is so much more to yoga then I ever could have imagined. The program offered excellent teachings and I was given so many tools to continue to grow. I will carry this experience with me forever. Thank you from the deepest gratitude of my soul! " April D.
---
"Yoga Teacher Training has been the best self-empowerment tool for me. The course influenced me in so many ways, and I left feeling grounded, connected, and inspired to begin my new journey!" Kirsten M.
---
"I signed up for YTT to simply expand my knowledge of yoga and deepen my physical practice.. I could have never imagined how truly transformative it would be and how the lessons learned and relationships formed would help re-shape my entire being.. mentally, spiritually and physically. My association with Jess and all the great souls at the OM Center continues to improve my life on a daily basis and I will be forever grateful to have been shown this path. " Janice G.
---
  "I loved yoga teacher training!  It was a time set aside to get to know my body, my heart, & my mind better than I ever had before.  Amazing stuff.  I'd do it again in a heartbeat." Elizabeth S.
---