Flexible 200 Hour Yoga Teacher Training 2016-2017

The flexible 200 hour yoga teacher training program is a year long program that is structured for working and busy adult who can not commit to a weekend or weekday steady program and involves a community service project, and ends with a weekend long retreat.  The program is structured in a way to meet every month for 3, 5-6 hour sessions. Each month the group will decide the schedule for the following month which may include weekends, weekdays, mornings or weekends, depending on group availability. This program is an information packed program that exceeds all time and curriculum requirements laid out by Yoga Alliance. Students who study at Om will have a strong understanding of the asana, pranayama, anatomy and physiology, history, philosophy, sequencing, teaching styles, and lifestyle of a yoga teacher. While this program is heavily influenced by Vinyasa, students will also come away from the program with an understanding of, and experience with: power yoga, chair yoga, Kundalini, Yin Yoga, gentle yoga, restorative yoga and more. Each student is required to co-teach a beginner yoga series while they are in training, and complete 50 hours of class time with you an RYT 200 or higher (all classes outside of YTT are free at OM during the duration of training, but classes may be completed outside of the studio). 
Email to Jessica at theomcenter@gmail.com or Mail to: The Om Center 27 Siemon Company Drive 107WS Watertown, CT 06795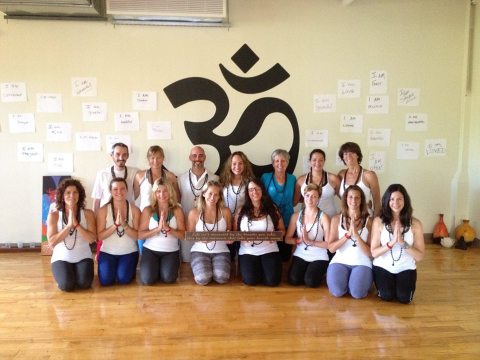 These books are required in book form (please no Ebooks) and are to be brought to each class.
The Bahagavad Gita (Eknath Easwaran)
The Path of the Yoga Sutra (Nicholi Brachman)
The Key Poses of Yoga (Ray Long)
Suggested: The Yoga Toolbox
Program Includes:
Manual of course work, mala beads, minimum of 180 hours of contact time, discounts on yoga classes, massage and Buddha Bistro
Program Investment: $2300
Deposit Due April 1st to hold any space: $250 (non-refundable)
Paid In Full Cost By April 1st:
$2150 (Cash) $2200 (Credit)
 Payment Plan:
April 1st: $250 Deposit
Monthly Payments of $186.36
All payments are subject to 6.35% CT Sales Tax. All payments are non-refundable- if is a student is unable to complete the program for any reason, they are able to pick up where they left off at the next training.

**Training is subject to 6.35% CT Sales Tax **
Meets:
 3xs per month for 5-6 hours per session.
 Dates :
The program begins April 2016 and runs through April 2017. Students must be able to commit to the first class Sunday April 3rd from 8am-2pm. All other scheduling will be decided each month from there.
Students are required to complete 50 hours of observation and study with a 200 Hour Level Yoga Teacher or higher, Co-Teach a beginner series with an OM Teacher, co-teach and assist in classes with an OM teacher, and participate in a community service project

If you are unable to attend class due to illness or other unforeseen circumstances you must make up all class hours with one of Om's ERYT Teachers at a rate of $25/hour.
Email to: Jessica @ theomcenter@gmail.com or mail to: The Om Center 27 Siemon Co. Drive 107WS Watertown, CT 06795
[contact-form to='theomcenter@gmail.com' subject='Spring YTT Prospect'][contact-field label='Want to speak to someone? Name' type='name' required='1'/][contact-field label='Email' type='email' required='1'/][contact-field label='What program are you interested in?' type='text'/][contact-field label='Questions or Comments' type='textarea' required='1'/][contact-field label='Where did you hear about us?' type='text'/][/contact-form]