Massage Menu
The OM Center offers Watertown, Connecticut's finest theraputic massage menu in a beautiful and relaxing setting. Whether scheduling with us to relax, to work though injury or pain, and to relieve some dis-ease in the body, OM's licensed body workers are educated and ready to work with your specialized needs.
Swedish : A overall body massage that can target one area of the body if the client wishes. The broad strokes of a Swedish massage are deeply relaxing and are great for those who do not love the slight pain of a deeper massage.
---
Deep Tissue : A deep tissue massage at The Om Center is a great way to get a deeper healing for the musculature of the body. Your therapist will use deep, more direct pressure to move past the most superficial layers of the body and get into the deeper muscles and areas where the client may be experiencing any areas of pain or discomfort.
---
Thai : Thai massage looks like a cross between acupressure, yoga, and Zen shiatsu and is inspired by Buddhist teachings. The actual massage consists of a technique that uses slow, rhythmic compression and stretches along the body's energy lines, also called Sen in Thai. This type of massage increases flexibility and range of movement, eliminates muscle pain and muscle spasms, improves postural alignment, calms the nervous system and promotes a deep sense of relaxation, increased energy level, allows for a significant release of deep, emotional distress, stimulates blood circulation and lymph drainage, stimulates internal organs, relieves fatigue, swollen limbs, painful joints, and headaches.
*This massage is done fully clothed, on a  specialized mat on the floor. Please wear comfortable, stretchable clothing.
---
Hot Stone : Hot Stone  is a massage technique that uses heated stones to relax and massage sore muscles. The stones are either placed on areas of the body to use their heat alone, or as massage tools used in combination with essential oils used in aromatherapy. Basalt rocks are for their heat retention properties, and are usually heated to around 125-150 degrees using hot water. The smooth, rounded stones are then placed along various points on the body to open up energy channels and promote circulation. This is a very relaxing 75 minute massage and always a great gift for someone you love!
---
Essential Oils: Teaming up with Essential Healing Arts, a wonderful practice owned by Linda Dayton, Om offers an essential oil add of for any massage: with some really amazing options to choose from, adding essential oils to your massage can help you find even deeper relaxation and healing.
---
Reflexology: Not just a foot massage, reflexology is an ancient technique of body work that targets the feet and sometimes the hands and uses the meridians and energy pathways of the body to target muscles, organs, and systems through the soles of the feet.
---
Call 860-417-3770 to Book Today
or Book Online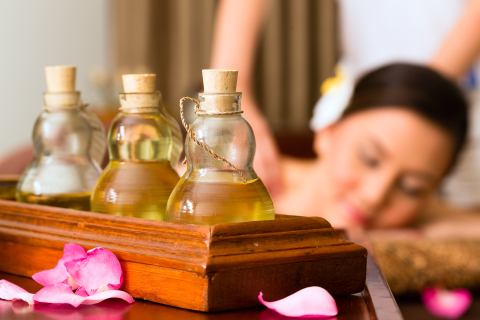 *Please note that same day cancellations and no shows will be charged 100% of the massage cost.